ABOUT THE
MASON DIXON TRAIL
AND LINKS TO THEIR WEBSITE
Hiking trail DE Delaware MD Maryland PA Pennsylvania.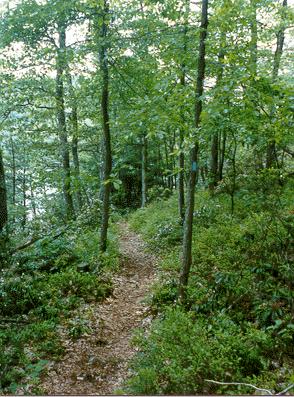 The Mason Dixon Trail System connects the Appalachian Trail with the Brandywine Trail near Chadds Ford, PA.

To contact them you can E-Mail them by clicking

the blaze to the right.
Need maps to find your way and know were your going?
Link To the OFFICIAL Mason Dixon Trail System Website!
"This York Hiking Club page"
deals with the York County area of the trail
with the news, maps, and photos
to give you sample idea were and what the trail is.
News and Updates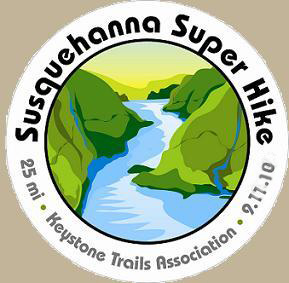 Susquehanna Super Hike & Ultra Trail Run (York & Lancaster Counties): The Keystone Trails Association will host the second annual Susquehanna Super Hike & Ultra Trail Run on Saturday, September 11, 2010. Join KTA for the 28.4-mile trail challenge for adventurous hikers and trail runners on the wild river hills of the lower Susquehanna Gorge. The course follows the Mason Dixon and Conestoga Trails and features spectacular river views including Urey Overlook, House Rock Vista and Pinnacle Overlook, scenic hollows like Oakland Run, Tucquan Glen and Kelly's Run, and Wind Cave, one of the largest tectonic caves in the eastern U.S.
---
Longest Day 100K Challenge: June 20, 2009 - 100 kilometers in 15 hours of sunlight on the longest day of the year. Sunrise 5:37, Sunset 8:38 (total time 15:01). Susquehanna Park, Maryland to Long Level, near Wrightsville, Pa Start at sunrise (05:37) finish by sunset (20:38), total time: 15:01.
This 100K trail run has been run for at least three years making the MDTS part of "Trail Running Clubs" scheduled events for the year. They write about how the York county part of the trail is: "The route is along the most beautiful part of the Susquehanna, and the wide variety of terrain and landscapes is unbelievable!"
Organized by: Official Website. Photos1 , 2 (Just click next top/right).
Start - Rock Run Mill (MD.)
Finish - Shanks Mare Store (PA.)
York Daily Record: "Fastest time on longest day"
"Pfleiger said the course follows the Mason Dixon Trail near the Susquehanna River, and it is mostly single track. It also gets more and more difficult toward the finish. This year's event, the third annual, was made more challenging by Mother Nature."
---
Highpoint: York Hiking Club helped reroute a portion of the Mason-Dixon Trail off a busy road and onto Highpoint, county-owned property in Lower Windsor Township.
"Susquehanna Heritage Park to add almost 60 acres" Daily Record/Sunday News
---
Mason-Dixon Trail Murphy's Hollow Relocation: Thanks to Ed Kline of County Line Quarry, we received permission to move the Mason-Dixon Trail off of a very dangerous part of Rt. 624 just down river of Wrightsville. This area is called Murphy's Hollow. The trail now crosses Safe Harbor and County Line Quarry property. Hike Safer with this relocation information. MORE INFO CLICK.
---
Leading the trail
Volunteers moved part of the nature walk off Route 624 onto safer land. A small group of seniors Wednesday said opening their hearts, giving their time and digging in the dirt keeps them appearing and feeling young. The volunteers, all of whom are retired, worked to clear about a mile of path for a hiking trail to be moved to a safer location.
MORE INFO CLICK.
---
TOWING:
MDTS at Muddy creek at Paper mill road in lower Chanceford twp. we parked our vehicle on edge of road, peach bottom twp side. ........ MORE INFO CLICK.
---
Due to the heighten security, Peach Bottom is asking
people to call ahead if they are going to hike the part of the MDTS that is on Peach Bottom land. They are to call (717/456-4212) ........MORE INFO CLICK.
---
The trail below Conowingo dam
is closed because of heightened security. M-DT Relocation at Conowingo
..........
---
Trail Info. and Maps
Overview Map:
M.D.T.S. Map and Area Trails Like "The Brandywine Trail! ..........
---
York county area:
M.D.T.S. Topographical Maps 2001 (click number): 3 , 4 , 5
Mason-Dixon Trail Distance Calculator! Click
---
The Brandywine Trail:
A long-distance hiking trail in S.E. Pennsylvania and Northern Delaware. ........
Click Me!
---
Photos
York County area Photos of the trail:
Photo Gallery Page 1 , 2 , 3 , 4
---
Get Maps!

Shank's Mare at Long Level south of Wrightsville has the maps. Also in the E-Store.
Otter Creek Camp Ground is now selling MDTS maps. www.ottercreekcamp.com .
Mason-Dixon Trail Maps are here
The 2004 edition of the M-DT maps is now available. The maps have been updated; GPS data has enabled more accurate delineation of the M-DT, there have been many relocations, other trails have been added. Each map, printed on water-proof paper, is 20 x 8.5 inches and folds to a 4 x 8.5 inch format. A detailed trail description, both west to east and east to west, is printed on the reverse side of each map. The set of 10 maps includes a cover sheet and is enclosed in a plastic bag. The new maps include side trails and park trails shown as dotted red lines in addition to the solid red line of the M-DT.
Link To the OFFICIAL Mason Dixon Trail System Website.
Please join the Mason-Dixon Trail System and get a map set and a patch. The guide book is on the back of the maps.
Link To the OFFICIAL Mason Dixon Trail System Website.
---
The 190-mile long Mason-Dixon Trail starts at Whiskey Springs, on the Appalachian Trail, in Cumberland County, PA and heads east towards the Susquehanna River, passing through Pinchot State Park en route. The trail then follows the west bank of the Susquehanna south to Havre de Grace in Maryland. Across the river, the M-DT continues east, passes through Elk Neck State Forest, then on to Iron Hill Park in Delaware, north along the Christina River and White Clay Creek to the White Clay Creek Preserve. The trail then heads northeast to its eastern terminus at Chadds Ford, PA on the banks of the Brandywine River.
.....The MDTS has limited places for wilderness camping. Most spots only have room for one tent. Established campgrounds are in:
Gifford Pinchot State Park - Campground opens the
second Saturday in April until the third Sunday in October. Reservations required. Reservations
can be made by calling 1-888-PA-PARKS up to 11 months in advance. Walk up registration is also available. The Mason-Dixon Trail passes close by the
campground. Campground phone number is 717-292-4112
Pinchott State Park: Click Below.
PP&L Otter Creek campground.- 11001 Furnace Road, Airville PA 17302. Phone 717/862-3626. (M-DT passes right through campground)
Susquehanna State Park - mailing address: 3318 Rocks Chrome Hill Road, Jarretsville MD 21084. Reservations required. Phone 410/557-7994. Closed in winter. (Campground is about 1 mile from the trail)
Susquehanna State Park: Click below to go there!

Elk Neck State Forest - (primitive camping - camp only in designated camping areas - M-DT passes close to two camping areas which are shown on the map and mentioned in the trail description). Nominal fee - ranger will collect fee in evening ("No camping from November 1, 1999 to April 1, 2000" ). Now under jurisdiction of Elk Neck State Park - (410/287-5333)
Elkneck State Park: Click below to go there!


In addition, for scouts there is the Broad Creek Memorial Scout Camp
for information write:
Camping Services
Baltimore Area Council
701 Wyman Park Drive
Baltimore, MD 21211
(443)573-2500
Web Master: Jim T.
Aug, 11 2007