NEWS ABOUT
THE MASON DIXON TRAIL
SYSTEM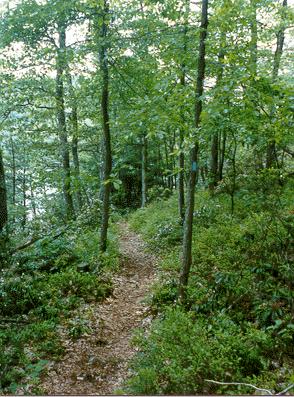 News and Updates
---
Mason-Dixon Trail Murphy's Hollow Relocation: Thanks to Ed Kline of County Line Quarry, we received permission to move the Mason-Dixon Trail off of a very dangerous part of Rt. 624 just down river of Wrightsville. This area is called Murphy's Hollow. The trail now crosses Safe Harbor and County Line Quarry property.
January 25, 2007. The Trail South of Wrightsville (map 3) is now officially off of Route 624. the Murphy's Hollow relocation is now connected to the Grace Plateau Relocation with a temporary ladder and ramp into the Culvert under Route 624. The trail rejoins the old trail on Hilt road. It will eventually cross Hilt Road and go up the bank onto Highpoint Park.
Click map below to see the Murphy's Hollow Relocation Map.
Safety Updated Trail Info
Map 3

West to East


These are approximate distances. They have not been measured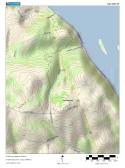 14.6
14.6 After passing under the bridge and joining Rt. 624 on Front Street, there is parking on the left by the river. Follow Rt. 624 across Kreutz Creek and past the quarry entrance.


14.9 Turn left off of Rt. 624 and onto Lockwood Rd. for about 100 ft. Turn right into the woods. Proceed about another 100 ft. and cross a small stream and begin climbing the hill by switchbacks. At the top there are excellent winter views of the Susquehanna River. After crossing the hill the descent is by a long gradual slope. At the bottom the trail parallels the stream in Murphy's Hollow. A yellow blazed side trail leads up to Murphy's Hollow Road with parking. (At Rt. 624 the entrance to Murphy's Hollow Road states that the area is Private Property – Keep out. We are welcome to park here.)


15.8 Cross under Rt. 624 through a large culvert. Water is usually about one inch deep. The trail leaves the stream bed by several very short switchbacks and begins climbing by large switchbacks to Waterstreet Rescue Mission property, please stay on the trail. The trail climbs to the top and immediately descends to cross a small wet area and climbs to the entrance Drive for the property. Turn left to Hilt Road


16.7 Cross Hilt Road and climb by several switchbacks into York County Heritage High Point Park. After leaving the woods the trail makes a very large loop just passing the high point, with excellent views up and down the Susquehanna River, and then descends to the intersection of Hilt Road and Knights View Road.

There is a paved Parking area about 100 feet downhill from the trail.


17.4 Cross Knights View Road. Etc. There will soon be Parking to the left just before Knights View Road in the new County High Point Park.


East to West

0.0 Cross Knights View Road and Hilt Road intersection entering the new County High Point Heritage Park with a parking area just beyond the intersection. The trail climbs to the right to the top of High Point with excellent views up and down the Susquehanna River. After reaching the top the trail descends in a large sweeping curve to a small wooded area, descend to Hilt Road by several switchbacks.


0.7 Cross onto a paved Private Drive. After passing through the iron gate, the trail soon turns right down to a small wet area before beginning the climb to the top of the hill. This is Waterstreet Rescue Mission Property, please stay on the trail. The trail immediately begins descending by large switchbacks to Murphy's Hollow Stream.


2.0 The trail passes under Rt. 624 through a large culvert. Water is usually only about one inch deep. After about 300 ft. there is a Yellow Blazed side trail which leads to Murphy's Hollow Road where there is parking. (The entrance to Murphy's Hollow Road states that it is private property, Keep out. We have permission to park here.) The trail climbs the hill and has excellent winter views of the river. Descend by several large switchbacks coming out on Lockwood Road where the trail turns left for about 100 ft. to Rt. 624.


2.9 Turn right onto Rt. 624 and immediately pass the entrance to the Quarry on the left and proceed across Kreutz Creek.


3.2 Pass a large parking area on the right down at the river.

Add 0.7 to the rest of the mileages. Ron Gray
---
Sat March 20th, our son, our dog, husband and my self drove to muddy creek at Paper mill road in lower chanceford twp. we parked our vehicle on edge of road, peach bottom twp side. when we returned from our 3 hr hike our vehicle was gone. several people were standing around trying to figure where there vehicles were. Some one driving by told us that our vehicles were towed (6 vehicles) to Maryland. another person stopped and took our son to find a public phone 6 miles away. They were gone for 1 hr. They went to the towing Co. it was closed. He called state police and told them our vehicle was stolen, they said not it was towed, son asked if we could get a ride because we are stranded out here, officer said I will give you telephone # of towing co. & maybe they pick you up. TOWING CO. WAS CLOSED!!!! We could pick the vehicle UP on Mon. (hours 8am to 5pm)
It is now, 4:45pm and we do not know what to do. 3 people decide to walk hoping someone would come along and give them a ride. Our cell phone was in our vehicle with other items of value. The gentlemen with two 4 yr. olds was finally able to contact his wife. .
There were 9 of us stranded and it started to rain, it was getting dark.
One of the persons who stopped agreed to drive us and our pet to Dallastown, Pa.
======The only thing I can add is a farmer is doing this because of people that used to block his gate and leave trash around. He should have signs up. And that you should not anger the man as been know to make your day a whole lot worse! Do not know if it is legal to have towed from the above area as I am not a lawyer nor know if he owns the land in any way from rights given from daily use. As far as we have been told he only owns the gated area but he is towing from area on the S/E side of the river also.
Update: A meeting with him and three other people/Government/Police agencies may take place this year, 2004 late, to talk with him about the towing and how he does not own the land other than in front of the Gate on the N/W side of the river.
---
Due to the heighten security, Peach Bottom is asking
people to call ahead if they are going to hike the part
of the MDTS that is on Peach Bottom land. They are to
Call (717/456-4212) with a list of the people hiking. She works 8-5 weekdays. People should
carry a picture ID because they may be stopped by the
state police or an armed guard.
When using sections of the Mason Dixon Trail that are on, or close
to, the Peach Bottom Atomic Power Station site, and the plant evacuation
siren is heard, be sure to exit the vicinity of the PBAPS site immediately.
The plant evacuation siren has a low pitch wailing tone similar to that of many fire houses.
---
"The trail below Conowingo dam is closed because of heightened
security.
M-DT Relocation at Conowingo
Map 6: East to West
Mile 10.0 Leave Greenway at Fisherman's park boat ramp and parking area. Turn left up Shures
Landing Rd
10.6 Turn right on Shuresville Rd
11.0 Turn left on roadway into former site of Conowingo Village which housed workers building
Conowingo Dam. Pavement ends. Continue on old roadbed now seeded with grass
11.4 Cross Rte 1 (carefully) onto entrance road to Conowingo swimming pool and the Lower
Susquehanna Heritage Greenway Visitor Center. Head left by radio tower, enter woods
and go downhill. Etc.
Map 6: West to East
Mile 9.1 Emerge from woods, cross field by radio tower and turn right onto road leading to Rte 1
9.2 Go directly across Rte 1 onto old roadbed, now seeded with grass, that climbs up the hill,
curves left, becomes a paved road and passes a house and water tower (former site of
Conowingo Village which housed workers building Conowingo Dam)
9.6 Turn right on Shuresville Rd
10.0 Turn left on Shures Landing Rd
10.6 Reach Fisherman's Park by the Susquehanna River. Turn right onto the Lower Susquehanna
Heritage Greenway following an old railroad bed
etc.

Mrs. Y. (M.D.T.S.)
Back to THE YHC MDTS Main Page


Web Master: Jim T.
July.,29 2007