York Hiking Club

Newsletter

Hiking Dates
Welcome to the York Hiking Club Newsletter, a complete monthly listing of hikes, work trips, special events and announcements.

All are welcome to come on out on a hike to see what the club is all about.

A welcome sheet is handed out at every hike. This sheet has all you need to join and get on the mailing list.

Need more information on a hike or activity?

Just contact the event leader- they will be happy to answer your questions.

Parking / Directions For the Club! Four Lots Click

Print version! also the PDF version!
************************************************************************
September 2013

Chairperson: Allen Britton (717) 741-0624,
(In the event of inclement weather, please contact the hike leader in advance of the meet time
for information on any change in the activity.)
(

Please

make telephone calls before 9PM.)

Blue links below take you to a map page!

Parking For the Club! Four Lots Click

Fee for a hike is only if one Carpools.
Please volunteer to lead a hike or two for this 2013 year.


September 2 Labor Day Picnic at JPJ: Please Join us for our usually get together at JPJ John Seville will lead us on
Short Hike beginning at 10:45 AM. This will be our usual covered dish. Please join us for a day of fun. Contact Allen Britton
at 741-0624 or and let me know what you are bringing.

September 7 Super Hike: See Below

September 8 Short Hike: A surprise hike, approximately of 6-miles in Airville, which will take you on and off trail, I have no idea where we will end up. Meeting at Boscov's East Parking, Galleria Mall, near Texas Roadhouse at 1:00 P.M. Bring water, lunch, and hiking shoes. Carpool Fee: $2. Hike leader: Eddie Johnson at (717) 862-3741

September 15 Short Hike: 5 mile rail trail hike. Hike starts at Heritage Rail in New Freedom, PA to Torrey C. Brown Trail (formally NCR trail), Heartland, MD. The trail is relatively flat cinder and dirt trail. Bring good walking shoes or hiking boots, water, and a snack. If you like to see old trains, then bring a camera. We should be able to see the replica of Old 17 used for "Steam into History" as it start its Sunday afternoon trip. Meeting Place is at the "South Parking lot" located at the Vo-Tec (York County High School of Technology) at 1:00 PM. If carpooling, then the carpool fee is $3.00. Hike Leader is Alan Noble (phone: 717-817-9430 or e-mail: ).

September 15 - LONG HIKE: Ten moderately strenuous miles in Catoctin Mtn Nat Park visiting Cunningham Falls, Hog Rock, Blue Ridge and Thurmont Vistas, Wolf and Chimney Rocks. Total elevation gain 1,600'. Bring boots, water and lunch. Meet at Adams Electric, 8:30 AM. Carpool: $4. Leader: Tim Schmidt 717-235-5940.


September 22-Sunday: 6 miles on the rail trail. Meet downtown Philadelphia St & Pershing Ave starting point parking lot AT 1:00PM. We will walk to Day's Mill Road Crossing. Mostly all flat walking. Enjoy the beauty of the rail trail with areas of farms and woods. Bring water, boots, and a hat. Leader: Linda Bean (717) 764-1091 .

September 27 ANNUAL MEETING & COVERED DISH: Annual meeting at the York Township Park Building. Items to be considered: 1) The election of officers for the following positions, President, Treasurer, two director at large, Trail Chairperson, and Activities chairperson and 6 members for the activities committee) Time 6:30 to 8:30 p.m. As has been our tradition this will be a covered dish event. Please contact Al Briton at or 741-0624 and let him know what you are bringing.

September 28 –A SATURDAY HIKE - Long Hike Approximately 10 miles in Gunpowder Falls State Park along the river. We will hike 5 miles and then turn and come back on the other side. One side provides some climbs but then coming back we will have a nice level walk. There are a few small stream crossings. Meet at 8:30 a.m. at Vo-Tech (York County School of Technology) parking lot. Fee $4.00. Hike leaders Tom and Phyllis Morley (717) 764-6822 – . Bring lunch, suitable footwear and drinking water.


September 29 - Short hike: This scenic 5-mile hike starts at the Wrightsville boat launch and ends at the Moon Dancer Winery parking lot. We will have moderate elevation going through Murphy's Hollow, Grace Plateau, and on to High Point, where you have a 360-degree view of the river and surrounding hills. Please bring water, snacks and wear good walking shoes/boots. Weather permitting, we can enjoy a glass of wine at
the winery. Car pool fee $1.00. Meet at Boscov's East Parking (near the Texas Road House) off PA 24 at 12:30 pm. Hike leader: Bob Falsetti - or 717-854-3437.

Announcements:

Volunteers Needed to work at the YHC Water station at Otter Creek Campground for the Susquehanna Super Hike on Saturday, September 7 from 6-10 a.m. Contact Tim Schmidt, , 717-235-5940.


Log Book - Please send your hike write-ups to our Log Editor, Jim Trautman at

October 5th Pinchot Park "Code Orange – Trail Care Day" – There are plans for a number of renovation projects on the combined section of Lakeside / Mason Dixon Trail. Trail relocation, raised walkways, Geo- textile and cell installation, stepping stone installation and trail clearing will be on the agenda for the day. The Friends of Pinchot, will host a cookout following the activities. For more information contact Skip Newcomer 841-4930 or Email . Carpool will meet at the Masonic Drive location at 7:45 AM.

October 11-13, 2013, Keystone Trails Association : Base camp will be at the Doubling Gap Center in Newville, Cumberland County, PA. The Doubling Gap area, nestled in the Blue Mountain Ridge of the Appalachian Mountains and on the southern edge of the Tuscarora State Forest, contains many hiking trails waiting to be explored. In addition to challenging, longer hikes, short, easy and kid-friendly options will also be offered each day. Registrations must be received by September 24.


Backpacking Trip: October 3-8: Planning a 61 mile backpacking trip through the lower Shenandoah Mountains from Waynesboro to Big Meadows Campground. It will be strenuous but not severe. Climbs average 200 to 500 feet. Experienced backpackers only. If interested please contact Tom Morley or 717 764-6822.

Beginning Backpacking – (Backpacking 101) some members have expressed an interest in backpacking but don't want to commit to equipment or a longer hike. If there is interest we would plan a short trip over one or two nights for next Spring with the possibility of borrowing equipment. Please contact Tom Morley if interested or have questions. Contact info as above

The club is looking for volunteers to help John Seville purge and archive the long and storied History of the Club. Please help with this important project, which when completed will become a permanent Part of York County History. Contact John at
(717) 244-6769 or


THANKSGIVING: Yes I know it's only September, but, if we what another great Thanksgiving the time to start planning is now, before I start calling you. Please consider what you would like to bring and what you would like to do

FEELING LEFT OUT???: Please don't be bashful feel free to step forward anytime to lead a hike. Please don't wait to be asked. Call the monthly chairperson or me Al Britton 717-741-0624 or . I will put you in touch with the right person. Not sure you know what to do or you would like some one to go over the hike with you, well call me, I'll be glad to help. No experience is necessary, just a desire to get involved. The hike can be of any length.

GOT A NEW EMAIL ADDRESS? PLEASE NOTIFY Bernie Frick, and Phyllis Morley, if you have changed your e-mail address. This information is held by the club only and will be used to send club information and inclusion in our yearly logbook. Thank you for your cooperation.

THURSDAY WEEKLY TRAIL MAINTENANCE: Contact Jim Hooper for information of that week. 717-252-3784 or


WANTED: Individuals who are willing to lead short hikes on Wednesdays There is no need to wait for the weekend to get outside. Give me a call or e mail me 717-741-0624 or

A DIFFERENCT KIND OF ACTIVITY: If you would like to lead a bike hike, canoe or weekend camping trip please let me know. Allen Britton 717-741-0624 or





Please volunteer to lead a hike or two for this year's schedule.

* "If there are no objections within 10 days" refers to things like almost getting a hike kicked out of a park.

A sheet is handed out to all New hikers at the parking lots before the hikes.

Our new place for meetings/events is inside the York Township Recreation Building, directions as follows:

From I-83 exit 16, take Queen St (PA-74) south for about 1 mile. At Campbell Music, turn left onto Oak St. Drive about a

tenth of a mile and stop at the stop sign; do not turn right. Drive straight ahead past the township building to the small

building in the middle of the field.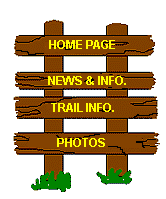 Parking lot maps
Vo-Tec (York County High School of Technology)
North End meeting place next to Rutter's Store