York Hiking Club

Newsletter

Hiking Dates
Welcome to the York Hiking Club Newsletter, a complete monthly listing of hikes, work trips, special events and announcements.

All are welcome to come on out on a hike to see what the club is all about.

A welcome sheet is handed out at every hike. This sheet has all you need to join and get on the mailing list.

Need more information on a hike or activity?

Just contact the event leader- they will be happy to answer your questions.

Parking / Directions For the Club! Four Lots Click

Print version! also the PDF version!
************************************************************************
November 2014

Chairperson: Tom & Phyllis Morley
717-764-6822,
(In the event of inclement weather, please contact the hike leader in advance of the meet time
for information on any change in the activity.)
(

Please

make telephone calls before 9PM.)

Blue links below take you to a map page!

Parking For the Club! Four Lots Click

Fee for a hike is only if one Carpools.
Please volunteer to lead a hike or two for this 2014 year.


November 1, SATURDAY- Short Hike 5 miles - We all is a goanna be a traipsin along the ridges of that thar water company property and a takin in the lovely views of them thar pretty lakes. After a leisurely walk-about, we all is goanna party it up and hoedown at the Tateosian official place of residingness. Hiking boots on yer feet are recommended cause thar sure am some sharp rocks on them thar hilly pathways. Best bring yourself along some a keg fer a drinkin too. Meetin place at Vo-Tec (York County High School of Technology) off South Queen St. at 1:30 PM. No carpooling fee cause it's not a fur piece. Leadin hikin folks Sarah and Lou Tateosian at 741-2652. Yawl come!

November 9, AT Work Trip - Boundary Painting and work on the shelter. Meet at 8:30 am at the North End meeting place next to Rutter's Store meeting place or 9:20 at the parking lot at the river's end of Peter's Mtn. Let me know who is coming. Contact Tom Morley at 764-6822 or .

November 12 WEDNESDAY, Short Hike - Lake Redman: Join Lore and Allen Britton on a 3-mile hike. We will hike at Lake Redman. This is a pleasant hike skirting the lake. We have some ups, but nothing difficult. We will meet at 1:30pm. At the Lake Williams [Park Brochure and Trail Map] Parking Lot on S George St. Hike Leaders: The Britton's, 717-741-0624 or if you need directions.

November 16, 2014 - Medium hike 6-7 miles with good climbs. We'll hike the various trails within the Mt. Holly Springs Nature Preserve offering pleasant views of Mountain Stream, one great climb and another of more moderate grade with a great view from the top, and a look at the bubbling pond that gave the nearby town its name. Bring a hearty snack to enjoy during the hike, boots, and water. We'll enjoy a late lunch at the café in Boiling Springs with an optional walk around Children's Lake or visit to the Mid-Atlantic Regional Office of the Appalachian Trail Conservancy. Meet at Woodberry Road parking at 8 AM. Hike fee $4. Leader: Gwen Loose at (717) 891-9967.

November 16, 2014 Sunday - The next Quarterly Mason-Dixon Trail System Meeting & Hike will be Sunday, Nov. 16th. We expect to have the Meeting at the Conowingo Dam Visitor's Center in Darlington, MD. More specific details and times to come shortly.

November 23, Turkey Dinner & Short Hike - at JPJ Cabin. Open, free and great fun for club members only! Meal served at 1:30 PM, hot cider and cookies at 1 PM. Annual dues of $10 (or you can donate at a
higher level) must be paid in advance to Treasurer, Bernie Frick, at the address above (checks made out to York Hiking Club) or at the JPJ door before the meal. We still need people to bring food & help with set up and clean up. To help out and to make your dinner reservation, contact Tom & Phyllis Morley (717-764-6822) or email on or before November 17. Much appreciated! To work up our appetites, hike leaves JPJ cabin promptly at 10 AM. Hike Leader: Tim Schmidt
Please have your reservations and contributions to our Turkey Dinner not later than November 17

November 30, SUNDAY: Long Hike with shuttle - Approximately 11 mile hike on the Appalachian Trail in Michaux State Forest. Starting at Old Forge picnic ground and ending at Caledonia State Park. This is a moderately strenuous hike with some rocky sections, great views and one significant climb (940-foot) to Chimney Rocks. A great hike to work off Thanksgiving dinner. Meet at Woodberry Road at 8 a.m. If you are turning off of Route 30 onto 616, immediately turn left again onto Woodberry Road parking. Car pool fee is $6.00. Wear appropriate hiking gear and boots. Bring water, lunch and snacks. For more info call Kim Herbst at (717) 887-4462 or e-mail

Announcements:

NEW MEMBERS: Please welcome five new members to our club. Cheryl Garber, Tanya Kimmel, Suzette De Stevens, Mark Warner and David Lukes have sent their dues and are now members.

LOGBOOK CHANGES: The new logbook will soon be underway. Please check last year's book and make certain that all your information is correct. If you have any changes, please forward them immediately to me or Julie Falsetti so that we will have your contact info correct.

2015 ATC Biennial Conference: Hiking through History: The Appalachian Trail Conservancy (ATC) Biannual Conference will be held on July 17 – 24, 2015 in Winchester, Virginia. Find more information on the ATC website http://www.appalachiantrail.org/who-we-are/events/2013/08/08/2015-atc-biennial-conference-hiking-through-history.

Pennsylvania Appalachian Trail Conservancy Specialty License Plate Now Available. See the ATC website for more information ( http://www.appalachiantrail.org/who-we-are/news/2014/07/24/pennsylvania-appalachian-trail-conservancy-specialty-license-plate-now-available ).

Log Book - Please send your hike write-ups to our Log Editor, Jim Trautman at btrangerjet@comcast.net

Please note: Our historian, John Seville, notes that the York County
Heritage Trust has a sizable collection of York Hiking Club memorabilia in its library. However, the material dates only from the Club's Founding in 1932 to the early 1980s. For the past 30 years very little material has been added to our collection. We want to correct this omission; so John is asking members who have Club related items that might be suitable for inclusion in our archives to call him at 717-244-6769. Examples would be minutes of meetings, accounts of special events, photographs, newspaper articles, etc. We do not need any more copies of the annual log books.

Card Committee: Linda Bean has graciously agreed to be our "card committee" since Sally Zimmerer has moved from the area. If you know of someone with a serious illness, having surgery, etc., please notify Linda at .net or 764-1091 and she will send them a card.

FEELING LEFT OUT???: Please don't be bashful feel free to step forward anytime to lead a hike. Please don't wait to be asked. Call the monthly chairperson or me Al Britton 717-741-0624 or . I will put you in touch with the right person. Not sure you know what to do or you would like some one to go over the hike with you, well call me, I'll be glad to help. No experience is necessary, just a desire to get involved. The hike can be of any length.

GOT A NEW EMAIL ADDRESS? PLEASE NOTIFY Bernie Frick, and Phyllis Morley, if you have changed your e-mail address. This information is held by the club only and will be used to send club information and inclusion in our yearly logbook. Thank you for your cooperation.

THURSDAY WEEKLY TRAIL MAINTENANCE: Contact Jim Hooper for information of that week. 717-252-3784 or

WANTED: Individuals who are willing to lead short hikes on Wednesdays There is no need to wait for the weekend to get outside. Give me a call or e mail me 717-741-0624 or

A DIFFERENCT KIND OF ACTIVITY: If you would like to lead a bike hike, canoe or weekend camping trip please let me know. Allen Britton 717-741-0624 or





Please volunteer to lead a hike or two for this year's schedule.

* "If there are no objections within 10 days" refers to things like almost getting a hike kicked out of a park.

A sheet is handed out to all New hikers at the parking lots before the hikes.

Our new place for meetings/events is inside the York Township Recreation Building, directions as follows:

From I-83 exit 16, take Queen St (PA-74) south for about 1 mile. At Campbell Music, turn left onto Oak St. Drive about a

tenth of a mile and stop at the stop sign; do not turn right. Drive straight ahead past the township building to the small

building in the middle of the field.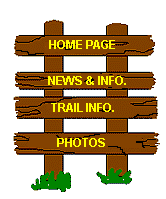 Parking lot maps
Vo-Tec (York County High School of Technology)
North End meeting place next to Rutter's Store