York Hiking Club

Newsletter

Hiking Dates
Welcome to the York Hiking Club Newsletter, a complete monthly listing of hikes, work trips, special events and announcements.

All are welcome to come on out on a hike to see what the club is all about.

A welcome sheet is handed out at every hike. This sheet has all you need to join and get on the mailing list.

Need more information on a hike or activity?

Just contact the event leader- they will be happy to answer your questions.

Parking / Directions For the Club! Four Lots Click

Print version! also the PDF version!
************************************************************************
November 2013

Chairperson: Allen Britton
(717) 741-0624 ( )
(In the event of inclement weather, please contact the hike leader in advance of the meet time
for information on any change in the activity.)
(

Please

make telephone calls before 9PM.)

Blue links below take you to a map page!

Parking For the Club! Four Lots Click

Fee for a hike is only if one Carpools.
Please volunteer to lead a hike or two for this 2013 year.


NOVEMBER 3: Spring forward, Fall BACK!! (Daylight savings time ends)

November 3, Medium Hike, Broad Creek Scout Camp: The camp is a very large with over 26 miles of trails with Broad Creek running thru it. We will hike about 7 miles. It is a beautiful area but some of the trails are blazed but not built. Expect the footing to be tricky in spots. I recommend you wear good boots and bring a hiking pole. Meet at the Vo-Tec (York County High School of Technology) at 9 am. Note this is Standard Time! Contact Jim Hooper at 252-3784 or Fee: $5.00.

November 3, Short Hike: This scenic 5-mile hike starts at the Wrightsville boat launch and ends at the Moon Dancer Winery parking lot. We will have moderate elevation going through Murphy's Hollow, Grace Plateau, and on to High Point, where you have a 360-degree view of the river and surrounding hills. Please bring water, snacks and wear good walking shoes/boots. Weather permitting, we can enjoy a glass of wine at the winery. Car pool fee $1.00. Meet at Boscov's East Parking (near the Texas Road House) off PA 24 at 12:30 pm. Hike leader: Eric Ling (work phone: 717-815-6635; email: )

November 10, AT Work Trip: This will be our fall boundary work trip. Meet at the North End meeting place next to Rutter's Store at 8:30 am. Contact Jim Hooper or 717- 252-3784 if you have any questions.

November 13, Wednesday: SHORT HIKE - We will meet in Columbia's newly renovated Park along the Susquehanna River under the Wrightsville/Columbia Bridge, at 9:15 AM. Donation for car ride will be a $1:00. We will have a possible lunch stop at Hinkels Drug Store. Bring water/snack and wear good walking shoes. The hike will be on the new (Enola Low Grade Rail Trail) near Washington Borough. Continuous views of the Susquehanna River during the hike. Hike as far as desired. It will be an in/out hike. Call Joyce Hooper, the hike leader at 717-252-3784 for any questions.

Nov 16 M-DTS Meeting and Hike: We will be hiking in Delaware on the M-DTS. Please contact Jim Hooper 252-3784 or for details.

November 17, Med/Long Hike - A moderately strenuous 8 mile loop hike on Cove Mountain with great views of the Susquehanna River from Hawk Rock overlook and mountain ridge. There is a strenuous climb to start and a steep descent later in the hike. Bring boots, water, lunch/snacks. Meet at the North End meeting place next to Rutter's Store at 8:30 a.m. Car pool fee is $4.00. Optional visit to the infamous Doyle Hotel following the hike. Hike Leaders: Tom and Phyllis Morley – 764-6822 or .

November 17, Short Hike: 5 mile hike at Rocky Ridge County Park. This is a circuit hike that will stop at both scenic outlooks. There are a number of hills mixed in with some flat trails with little to moderate difficulty. Bring hiking boots, snack, water, and dress for the weather. Meeting place is Boscov's East Parking lot at 1:00 P.M. Hike leader is Alan Noble (phone: 717-817-9430 and email: ). If a hiker is planning to meet at Rocky Ridge County Park, please call hike leader to find out which parking lot to meet at.

November 24, Turkey Dinner & Short Hike: at JPJ Cabin. Open, free and great fun for club members only! Meal served at 1:30 PM, hot cider and cookies at 1 PM. Annual dues of $10 (or you can donate at a higher level) must be paid in advance to Treasurer Bernie Frick at the address above (checks made out to York Hiking Club) or at the JPJ door before the meal. We still need people to bring food & help with set up and clean up. To help out and to make your dinner reservation, contact Allen Britton (717-741-0624) or email on or before November 19. Much appreciated! To work up our appetites, hike leaves JPJ cabin promptly at 10 AM. Hike Leader: Tim Schmidt Reservation form is attached if you prefer "snail-mail

Please have your reservations and contributions to our Turkey Dinner to me by November 19


Announcements:

Card Committee: Linda Bean has graciously agreed to be our "card committee" since Sally Zimmerer has moved from the area. If you know of someone with a serious illness, having surgery, etc., please notify Linda at .net or 764-1091 and she will send them a card.

For the most part, hike leaders are doing well with sending in their sign-up sheets which I really appreciate. However, I do still have trouble getting a few. We have been having a lot of new hikers lately which is great and I do want to be sure that they get credit for their miles. So, please make sure you get those sign-up sheets to me. E-mail is fine at or slow mail if you prefer at 2640 Wexford Lane, York, PA 17404.

THANKSGIVING DINNER: Now is the time to step up and volunteer to help with our annual Thanksgiving Dinner. I need volunteers to help set and clean up, serve the food, and most importantly prepare the meal please don't wait for me to call you (YOU KNOW I WILL). There are Turkeys to cook, desserts to make, vegetables
to prepare, and a hundred other things to make this another successful dinner. Please call or e mail me 717-741-0624 or Thanks in advance.

FEELING LEFT OUT???: Please don't be bashful feel free to step forward anytime to lead a hike. Please don't wait to be asked. Call the monthly chairperson or me Al Britton 717-741-0624 or . I will put you in touch with the right person. Not sure you know what to do or you would like some one to go over the hike with you, well call me, I'll be glad to help. No experience is necessary, just a desire to get involved. The hike can be of any length.

GOT A NEW EMAIL ADDRESS? PLEASE NOTIFY Bernie Frick, and Phyllis Morley, if you have changed your e-mail address. This information is held by the club only and will be used to send club information and inclusion in our yearly logbook. Thank you for your cooperation.

THURSDAY WEEKLY TRAIL MAINTENANCE: Contact Jim Hooper for information of that week. 717-252-3784 or


WANTED: Individuals who are willing to lead short hikes on Wednesdays There is no need to wait for the weekend to get outside. Give me a call or e mail me 717-741-0624 or

A DIFFERENCT KIND OF ACTIVITY: If you would like to lead a bike hike, canoe or weekend camping trip please let me know. Allen Britton 717-741-0624 or





Please volunteer to lead a hike or two for this year's schedule.

* "If there are no objections within 10 days" refers to things like almost getting a hike kicked out of a park.

A sheet is handed out to all New hikers at the parking lots before the hikes.

Our new place for meetings/events is inside the York Township Recreation Building, directions as follows:

From I-83 exit 16, take Queen St (PA-74) south for about 1 mile. At Campbell Music, turn left onto Oak St. Drive about a

tenth of a mile and stop at the stop sign; do not turn right. Drive straight ahead past the township building to the small

building in the middle of the field.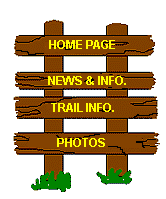 Parking lot maps
Vo-Tec (York County High School of Technology)
North End meeting place next to Rutter's Store