York Hiking Club

Newsletter

Hiking Dates
Welcome to the York Hiking Club Newsletter, a complete monthly listing of hikes, work trips, special events and announcements.

All are welcome to come on out on a hike to see what the club is all about.

A welcome sheet is handed out at every hike. This sheet has all you need to join and get on the mailing list.

Need more information on a hike or activity?

Just contact the event leader- they will be happy to answer your questions.

Parking / Directions For the Club! Four Lots Click

Print version! also the PDF version!
************************************************************************
May 2013

Chairperson: Linda Bean - 717-764-1091 –
(In the event of inclement weather, please contact the hike leader in advance of the meet time
for information on any change in the activity.)
(

Please

make telephone calls before 9PM.)

Blue links below take you to a map page!

Parking For the Club! Four Lots Click

Fee for a hike is only if one Carpools.
Please volunteer to lead a hike or two for this 2013 year.


May 5th - Sunday - Medium - 7 ˝ miles in Codorus State Park. This will consist of two loops on bridle Trails in the eastern section of the park with several views of Lake Marburg. Bring boots, lunch, and water. Meet at Adams Electric at 8:30. Carpool fee $2.00. Hike leader: Henry Loudermilk 235-4953.

May 8th - Wednesday Morning Hike: Meet at Hooper's Farm at 9:00 AM. We will drive to Urey Overlook parking lot and hike the new section of the MDT down along Otter Creek.
We will lunch back at Urey overlooks picnic table. There is a great possibility we will see an Eagle. Bring a lunch and water. Wear comfortable boots. Hike: Leader Joyce Hooper, (717) 2523784.

May 12th-Sunday - No Hike –Mother's Day

May 19th - Sunday Short Hike - Charles Glatfelter - 5 Miles along the Rail Trail. Meet at South Parking Lot, Vo-Tec (York County High School of Technology) at1:00 pm or Glatfelter Station parking lot at 1:15. We will walk south on the trail to Seven Valleys and back. Bring water & hiking shoes. The rail trail is a level gravel surface. Leader: Charlie Glatfelter - 717-578-2795 -

May 19 - Sunday - Long hike - 10 miles in Spring Valley Park. All of this is on trails except for about one quarter mile road walking split up among ten areas of crossings and connections. Woods, fields, Stonewalls, etc. Meet at Vo-Tec (York County High School of Technology) 8:00 or at crossroads parking area in park at 8:15. Bring boots, lunch Hike leader Henry Loudermilk 235-4953.

May 27 Monday - Memorial Day - Hike & covered dish lunch at John Paul Jones (JPJ). John Seville Will lead the hike @ 10:30 AM. Followed by a covered dish at 1:30 PM. Please call the Seville's at 244-6769 or with your covered dish selection so that we can have a nice variety for the meal.


Announcements:

We welcome to the club: Kathy Miller has paid her dues and initiation fee and wishes to become a member. She has agreed to have her email in the logbook. She has expressed an interest in learning more about Trails, Membership, cards, and the Log Book. Kathy Miller, RILLIAN LN YORK PA 17404 767-8910. Welcome to YHC Kathy.

FEELING LEFT OUT???: Please don't be bashful feel free to step forward anytime to lead a hike. Please don't wait to be asked. Call the monthly chairperson or me Al Britton 717-741-0624 or . I will put you in touch with the right person. Not sure you know what to do or you would like some one to go over the hike with you, well call me, I'll be glad to help. No experience is necessary, just a desire to get involved. The hike can be of any length.

GOT A NEW EMAIL ADDRESS? PLEASE NOTIFY Bernie Frick, and Phyllis Morley, if you have changed your e-mail address. This information is held by the club only and will be used to send club information and inclusion in our yearly logbook. Thank you for your cooperation.

THURSDAY WEEKLY TRAIL MAINTENANCE: Contact Jim Hooper for information of that week. 717-252-3784 or


WANTED: Individuals who are willing to lead short hikes on Wednesdays There is no need to wait for the weekend to get outside. Give me a call or e mail me 717-741-0624 or

MESSAGE FROM THE AT MUSEUM – Contact Gwen Loose if interested.
Greetings AT Museum fans –
I am leading the effort to construct an accessible ramp to the second floor of the museum, and would like to start work in May.
The first task will be to construct the second floor deck. This will start with drilling 20 holes Saturday May 11th in the stone wall for the support anchors for the ledger board. We will also need to remove a downspout.
If you are interested in participating, or know someone who is, please contact me.
Thanks,
Jack Adams




Please volunteer to lead a hike or two for this year's schedule.

* "If there are no objections within 10 days" refers to things like almost getting a hike kicked out of a park.

A sheet is handed out to all New hikers at the parking lots before the hikes.

Our new place for meetings/events is inside the York Township Recreation Building, directions as follows:

From I-83 exit 16, take Queen St (PA-74) south for about 1 mile. At Campbell Music, turn left onto Oak St. Drive about a

tenth of a mile and stop at the stop sign; do not turn right. Drive straight ahead past the township building to the small

building in the middle of the field.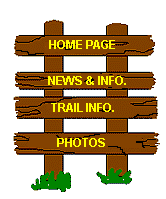 Parking lot maps
Vo-Tec (York County High School of Technology)
North End meeting place next to Rutter's Store