York Hiking Club

Newsletter

Hiking Dates
Welcome to the York Hiking Club Newsletter, a complete monthly listing of hikes, work trips, special events and announcements.

All are welcome to come on out on a hike to see what the club is all about.

A welcome sheet is handed out at every hike. This sheet has all you need to join and get on the mailing list.

Need more information on a hike or activity?

Just contact the event leader- they will be happy to answer your questions.

Parking / Directions For the Club! Four Lots Click

Print version! also the PDF version!
************************************************************************
March 2017

Chairperson: Alan Noble, 717-758-8470,
(In the event of inclement weather, please contact the hike leader in advance of the meet time
for information on any change in the activity.)
(

Please

make telephone calls before 9PM.)

Blue links below take you to a map page!

Parking For the Club! Four Lots Click

Fee for a hike is only if one Carpools.
Please volunteer to lead a hike or two for this 2017 year.

FRIDAY, MARCH 3 - COVERED DISH AND PROGRAM: Come join us for a social evening starting with a covered dish supper and proceeding to a presentation by Christen Anderson, NASM Personal Trainer, WPS, SHN, on strength training and eating on a plant based diet for backpacking and hiking trips. We will meet at York Township Recreation Building from 6:30 to 8:30 PM. Bring a dish to share. Having your own place setting is appreciated, but paper goods will be available. Contact Alan Noble (717-817-9430 or for more information.

Direction to the York Township Recreation Building, 25 Oak St, York, PA:

From I-83 exit 16, take Queen St (PA-74) south for about 1 mile. Turn left onto Oak St. Drive about a tenth of a mile and stop at the stop sign; do not turn right. Drive straight ahead past the township building to the small building in the middle of the field.

SUNDAY, MARCH 5 – MEDIUM HIKE (7 Miles): 7 miles at Strawberry Hill Nature Preserve in Adams County. Expect muddy trails, several hills, and at least one stream crossing. Bring boots, lunch, and water.
Meeting Location: Woodberry Road parking or Contact Leader for an Adams County meeting location
Meeting Time: 8:30 AM (Daylight Savings Time) Carpool Fee $5.00
Hike Leader: Pat Yale 717-495-2839, .

SUNDAY, MARCH 12 – SHORT HIKE (3 – 4 Miles): Hike at Lake Williams. We will begin on the trail system just south of the lake then join the trail which goes around the lake. There are a few easy elevation changes along the route. Bring water, a snack, and wear appropriate hiking shoes.
Meeting Location: York County High School of Technology (Vo-Tec) Meeting Time: 1:00 PM
Hike Leader: Ron Boyer,

SUNDAY, MARCH 12 – LONG HIKE (Approx. 9 Miles): Mt. Holly Springs Nature Preserve. We'll explore all the hiking trails within the preserve, many of which form loops through mixed hardwood and evergreen forests and along Mountain Stream. One good, long ascent to top of mountain. Mostly wide trails with some rocks. Bring water, hiking boots, and ample snacks. We'll stop at café in Boiling Springs for hot beverages and/or late lunch. Hike around Children's Lake and stop at ATC regional offices are optional.
Meeting Location: Woodberry Road parking Meeting Time: 8 AM. Carpool Fee $4.
Hike leader: Gwen Loose (717) 891-9967 before 9 PM.

SUNDAY, MARCH 19 – MEDIUM HIKE: Strenuous 7-mile hike at Rocky Ridge County Park. Terrain is rocky, hilly, wet, or muddy in areas. Bring hiking boots, lunch, snacks, and water.
Meeting Location: Boscov's East Parking Lot, or contact hike leader for where to meet at the park
Meeting Time: 10:00 AM Carpool Fee: No Carpool Fee
Hike Leader: Alan Noble 717-758-8470,

SATURDAY, MARCH 25 - SATURDAY JPJ WORK DAY: Come out and help get JPJ Cabin ready for summer fun activities! Jobs are available for everyone inside and out. We may be doing some painting in side if it is warm enough and cleaning up from the long winter outside. Wear old clothes and bring lunch. Meet at JPJ at 9:30 AM. Coffee and hot chocolate will be served with homemade something sweet! Let's plan on taking a short hike after lunch. Contact: Sarah Tateosian (717) 741-2652.

SUNDAY, MARCH 26 - LONG HIKE (12 MILES): Standing Stone Trail. We'll hike north through Hoopers Gap up to Butler Knob. We'll pass several vistas toward the end, including the Throne Room Vista and the Hall of the Mountain King! We will start with a 1200 foot climb over the first two miles. Bring boots and traction device, dress in layers, plenty of water, and lunch.
Meeting Location: North End meeting place Exit 24 route 83 Park and ride Lot N/E Corner Meeting Time: 7:00 AM
Carpool Fee: $5.00 Hike Leader: David Lukes, 717-818-4751,




ANNOUNCEMENTS:

April 1st Dump Cleanup: We will be finishing the dump cleanup which we started on last spring. A rain day will be April 6. Safe Harbor has promised to supply a dumpster so we do not have to take all the trash to the dump. Work includes picking up trash and moving some appliances that we found in the dump. So there is work for all. One needs 4-wheel drive to get to the site. If you have a 4-wheel drive vehicle please bring it. We will meet in Craley at Barry's grocery store. Please park away from the store so we do not interfere with the store's customers. If you have any questions contact Jim Hooper at or Roxanne Strine at .


Please note change: hike leaders should send the sign-up sheet to the membership chairman, Linda Bean ( ) after the hike, and do not forget to send your Hike write-up for the Log Book to Julie Falsetti ( )."

Hike Leaders Wanted: Thanks so much to all those who have signed up to lead hikes for 2017! There are a great many slots available throughout the year. Even if you are a new member, you can still lead a hike. We have short, medium, and long options available. Please see the schedule included with this month's newsletter and contact the monthly chairperson to sign up for one or more hikes. Please volunteer to lead a hike or two for this 2017 year.

Individuals who are willing to lead short hikes on Wednesdays area also wanted. If you would like to lead a Family Friendly hike on Saturday or Sunday please contact the monthly chairperson. A short hike is recommended. Contact David Lukes with any questions about leading hikes at .

Thursday Weekly Trail Maintenance: Contact Jim Hooper for information for the current week 717-252-3784 or

Please note: Our historian, John Seville, notes that the York County Heritage Trust has a sizable collection of York Hiking Club memorabilia in its library. However, the material dates from the Club's Founding in 1932 to the early 1980s. For the past 30 years little material has been added to our collection. We want to correct this omission; so John is asking members who have Club related items that might be suitable for inclusion in our archives to call him at 717-244-6769. Examples would be minutes of meetings, accounts of special events, photographs, newspaper articles, etc. No more copies of the annual log books.

Card Committee: Linda Bean serves as the "card committee." If you know of someone with a serious illness, having surgery, etc., please notify Linda at or 764-1091 and she will send them a card from the club. New Email Address? Contact Bernie Frick ( ) or Phyllis Morley ( ). This information is held by the club only and will be used to send club information and for inclusion in our yearly logbook. Thank you for your cooperation.




Please volunteer to lead a hike or two for this year's schedule.

* "If there are no objections within 10 days" refers to things like almost getting a hike kicked out of a park.

A sheet is handed out to all New hikers at the parking lots before the hikes.

Our new place for meetings/events is inside the York Township Recreation Building, directions as follows:

From I-83 exit 16, take Queen St (PA-74) south for about 1 mile. At Campbell Music, turn left onto Oak St. Drive about a

tenth of a mile and stop at the stop sign; do not turn right. Drive straight ahead past the township building to the small

building in the middle of the field.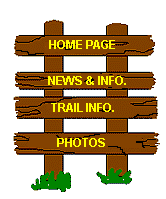 Parking lot maps
York County High School of Technology (Vo-Tec)
North End meeting place Exit 24 route 83 Park and ride Lot N/E Corner