York Hiking Club

Newsletter

Hiking Dates
Welcome to the York Hiking Club Newsletter, a complete monthly listing of hikes, work trips, special events and announcements.

All are welcome to come on out on a hike to see what the club is all about.

A welcome sheet is handed out at every hike. This sheet has all you need to join and get on the mailing list.

Need more information on a hike or activity?

Just contact the event leader- they will be happy to answer your questions.

Parking / Directions For the Club! Four Lots Click

Print version! also the PDF version!
************************************************************************
June 2014

Chairperson: Todd Trimmer
Phone: 717-817-2394;
(In the event of inclement weather, please contact the hike leader in advance of the meet time
for information on any change in the activity.)
(

Please

make telephone calls before 9PM.)

Blue links below take you to a map page!

Parking For the Club! Four Lots Click

Fee for a hike is only if one Carpools.
Please volunteer to lead a hike or two for this 2014 year.


JUNE 1, SUNDAY, Short/ Hike: This scenic 5-mile hike starts at the Wrightsville boat launch and ends at the Moon Dancer Winery parking lot. We will have moderate elevation going through Murphy's Hollow, Grace Plateau, and on to High Point, where you have a 360-degree view of the river and surrounding hills. Please bring water, snacks and wear good walking shoes/boots. Car pool fee $1.00. Meet at Boscov's East Parking (near the Texas Road House) off PA 24 at 12:30 pm. Hike leader: Eric Ling (work phone: 717-815-6635; email: )

JUNE 7, SATURDAY, NATIONAL TRAILS DAY Birding Hike: This birding/hike is sponsored by the Kittatinny Ridge Coalition, in coordination with ATC and PA Audubon. We will car pool to Wagoner's Gap on Route 74 north of Carlisle. The hike will be about 3-5 miles at a pace that allows for stopping to view and discuss birds. Bird sightings will be reported to ATC and eBird. There may be some rock hopping at the Hawk Watch site before we pick up a trail. We will meet at the North End meeting place next to Rutter's Store at 8:00 AM. The hike fee will be $5. Hike leaders - Bernie and Alice Frick at 843-6675 or .

JUNE 8, SUNDAY, AT WORK HIKE: This is the first of two days spent on clearing brush on Peters Mtn.. Meet at the North End meeting place next to Rutter's Store location at 8:30 or at the parking lot by the rail road tracks (river end of Peters Mt.) at 9:15. If you have any questions contact Jim Hooper 252-3784 or

June 11, WEDNESDAY, Short Hike: Lake Redman: Join Lore and Allen Britton on a 4-mile hike. We will hike at Lake Redman this is a pleasant hike skirting the lake. We have some ups, but nothing difficult. We will meet at 1:30pm. At the Lake William Parking Lot on S George St. Hike Leaders: The Britton's, 717-741-0624 or if you need directions.

JUNE 14, SATURDAY, AT WORK HIKE: This is the second of two days spent on clearing of brush on Peters Mtn. Meet at the North End meeting place next to Rutter's Store location at 8:30 or at the parking lot by the rail road tracks (river end of Peters Mt.) at 9:15. If you have any questions contact Jim Hooper 252-3784 or

JUNE 14, SATURDAY, Long Hike: 10 mile hike on the Mason-Dixon Trail System starting at lock 12 in the Holtwood Dam area and ending at Otter Creek Campground. The hike is a combination of unimproved roads and trails. Sections of the trail can be strenuous. Bring water, lunch, snacks, and hiking boots. Meeting place Vo-Tec (York County High School of Technology) at 8:00 AM. Car Pool Fee is $5.00. Hike Leader is Alan Noble (phone: 717-817-9430 or e-mail:

JUNE 15, SUNDAY, FATHER'S DAY – NO HIKE SCHEDULED

JUNE 21, SATURDAY, Sat: Summer Solstice AT Community Festival at Duncannon
Kevin Dunleavy will lead a loop hike on Peter's mtn. We'll be meeting at the commuter parking area at route 147 at 10:00am for a hike up the Appalachian Trail to the Clark's Ferry Shelter. After the shelter, we'll backtrack a little bit and return via the Susquehanna Trail. This hike is moderate to difficult in places with a generous supply of rocks. The hike will be about 4 miles and we'll return in time to enjoy the Duncannon Appalachian Trail Community Festival. Contact - Kevin Dunleavy kdnlvy@comcast.net
For those wishing to carpool from York, we will meet at North End meeting place next to Rutter's Store at 8:45 a.m. to travel to Duncannon. Carpool fee is $3.00. We will plan on spending some time at Duncannon Days following the hike with the return trip being arranged at a mutually agreeable time to the majority of those carpooling. Contact person is Phyllis Morley 764-6822 or .

June 22, SUNDAY, Medium Hike: Oakland Run to Pea vine Island. The corollary to Rob and Maureen's Three Creek Approximately 8.5 miles. Meet at Lock 12 parking area (#14) (immediately off PA 372). Lower level. 8:30 AM. We'll carpool to the State Game Land 181 parking area. This can be a difficult hike. En route you'll find: Grassy SGL road. Ticks? Problematic crossing of Oakland Run. Some short, steep climbs (and some short, steep descents). Overgrown rhododendrons. Some boulders with sketchy footing, especially if wet or damp. Scenic Oakland Run Ravine Longest uphill on the Susquehanna SuperHike. It's about 6 miles to Lock 12. From there, if desired, we can hike down to Pea vine Island. If we're lucky the water will be low enough to cross over to an outer island. (Hopefully the water will be high enough to require some wading). Shoes of your choice. (Sandals/water shoes/towel for Pea vine Island). Bring water, snacks, lunch, and insect repellant. Trekking poles/hiking stick might be helpful.
Hike Leader: Paul Yatabe (717) 872-1902, 203-5422 (cell).

June 28, Saturday - Paddling Trip: As an alternative to hiking in the heat, try an easy paddling trip on the Yellow Breeches. We will meet at 8:30 A.M. at Jim Lecrone's house, 1548 Hilton Ave, Dover, where we will organize cars/boats. Our trip will start from the covered bridge at Messiah College and cover about 7 miles to the Lower Allen Community Park. The Yellow Breeches is designated a PA "Scenic Stream" and is characterized by long shady pools with a few riffles and is popular for tubing. It originates on South Mountain in Michaux State Forest and generally maintains a good flow. More details can be found at http://www.fish.state.pa.us/anglerboater/2008/04julyaug/02breeches.pdf. While there are no planned portages, the water level in the summer can be low and we may need to push the boats over some shallow spots. Time on the water should be about 3 hours with a return time of mid-afternoon. If you don't have your own boat, but would like to do the trip, depending on whom we hear from, there may be extra space. Bring a lunch and water. Trip fee $3. If interested, contact Jim Lecrone 889-4523 or Bernie Frick 843-6675.

June 29, SUNDAY, FAMILY FUN HIKE: Short Family Hike: Bring the family out for a 3-4 mile nature scavenger hike at Rocky Ridge County Park. This will be a leisurely hike as we look for Mother Nature's treasures. Light refreshments will be served after the hike. Meet at the back parking lot near the entrance to Christmas Magic at Rocky Ridge at 1:30. Hike leader: Kim Herbst (717) 887-4462 or


Announcements:

The Super Hike will be on Saturday, September 6 from 7 AM – 7 PM. York Hiking club has always helped please volunteer again this year. The link to the online volunteer registration form is here: http://www.kta-hike.org/index.php?option=com_forme&fid=26 contact Allen Britton to let him know if you will volunteer. Don't forget to register!!!!

KTA is asking our club to lead a training hike leading up to the Super Hike in September. We are looking at the months of June, July or August for a hike.. If you have a desire to lead a hike, please contact Jim Hooper at or 717-252-3784. This is a perfect opportunity for the club to get some publicity.

Please note: Our historian, John Seville, notes that the York County
Heritage Trust has a sizable collection of York Hiking Club memorabilia in its library. However, the material dates only from the Club's Founding in 1932 to the early 1980s. For the past 30 years very little material has been added to our collection. We want to correct this omission; so John is asking members who have Club related items that might be suitable for inclusion in our archives to call him at 717-244-6769. Examples would be minutes of meetings, accounts of special events, photographs, newspaper articles, etc. We do not need any more copies of the annual log books.

Card Committee: Linda Bean has graciously agreed to be our "card committee" since Sally Zimmerer has moved from the area. If you know of someone with a serious illness, having surgery, etc., please notify Linda at .net or 764-1091 and she will send them a card.

FEELING LEFT OUT???: Please don't be bashful feel free to step forward anytime to lead a hike. Please don't wait to be asked. Call the monthly chairperson or me Al Britton 717-741-0624 or . I will put you in touch with the right person. Not sure you know what to do or you would like some one to go over the hike with you, well call me, I'll be glad to help. No experience is necessary, just a desire to get involved. The hike can be of any length.

GOT A NEW EMAIL ADDRESS? PLEASE NOTIFY Bernie Frick, and Phyllis Morley, if you have changed your e-mail address. This information is held by the club only and will be used to send club information and inclusion in our yearly logbook. Thank you for your cooperation.

THURSDAY WEEKLY TRAIL MAINTENANCE: Contact Jim Hooper for information of that week. 717-252-3784 or

WANTED: Individuals who are willing to lead short hikes on Wednesdays There is no need to wait for the weekend to get outside. Give me a call or e mail me 717-741-0624 or

A DIFFERENCT KIND OF ACTIVITY: If you would like to lead a bike hike, canoe or weekend camping trip please let me know. Allen Britton 717-741-0624 or





Please volunteer to lead a hike or two for this year's schedule.

* "If there are no objections within 10 days" refers to things like almost getting a hike kicked out of a park.

A sheet is handed out to all New hikers at the parking lots before the hikes.

Our new place for meetings/events is inside the York Township Recreation Building, directions as follows:

From I-83 exit 16, take Queen St (PA-74) south for about 1 mile. At Campbell Music, turn left onto Oak St. Drive about a

tenth of a mile and stop at the stop sign; do not turn right. Drive straight ahead past the township building to the small

building in the middle of the field.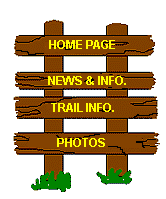 Parking lot maps
Vo-Tec (York County High School of Technology)
North End meeting place next to Rutter's Store