York Hiking Club

Newsletter

Hiking Dates
Welcome to the York Hiking Club Newsletter, a complete monthly listing of hikes, work trips, special events and announcements.

All are welcome to come on out on a hike to see what the club is all about.

A welcome sheet is handed out at every hike. This sheet has all you need to join and get on the mailing list.

Need more information on a hike or activity?

Just contact the event leader- they will be happy to answer your questions.

Parking / Directions For the Club! Four Lots Click

Print version! also the PDF version!
************************************************************************
April 2021
Chairperson: David Lukes, 717-818-4751,
(In the event of inclement weather, please contact the hike leader in advance of the meet time
for information on any change in the activity or check our Facebook page for cancellation information.)
(

Please

make telephone calls before 9PM.)

Blue links below take you to a map page!

Parking For the Club! Four Lots Click

Fee for a hike is only if one Carpools.
Please volunteer to lead a hike or two for this year.

Inclement Weather: Please contact the hike leader or check our Facebook page for cancellation information.

SUNDAY, APRIL 4 - MEDIUM HIKE (8 MILES): Hike around Gifford Pinchot Lake on the Lakeside Trail. This trail has rolling hills and at least one creek crossing. Trail running shoes or hiking boots recommended. There are sections that may be muddy. Bring water, snacks, and a lunch. The hike will start at the Conewago Day Use Area park informational board located at the midpoint of the grassy area. Please let the hike leader know if you plan to meet at the state park. We plan to start hiking at 9:00 AM.

Meeting Location: York County High School of Technology (Vo-Tec) Departure Time: 8:00 AM
Hike Leader: Alan Noble, 717-758-8470, Carpool Fee: N/A (Drive to Trail Head)


SUNDAY, APRIL 11 - LONG HIKE (11 MILES): Loop hike beginning at the end of Quarry Gap Rd off RT 233, Caledonia State Park. Loop includes A.T., Quarry Gap Shelter, Milesburn Cabin, Rocky Knob Trail, Long Pine Run Reservoir, Greenwood Rd, and Locust Gap Trail. Bring boots, lunch, water, snacks. Optional stop after hike at Thirsty Farmer to enjoy a "spring tonic" on their deck.

Meeting Location: Caledonia State Park visitor center Departure Time: 9:00 AM
Hike Leader: Gwen Loose (717)891-9967 No calls after 9 PM. Carpool Fee: None


SUNDAY, APRIL 18 - SHORT HIKE (3 miles, or more, if you like): Mother Nature is doing her magic on the Susquehanna River banks at JPJ. We will check out the wildflowers and then hike up to Urey Overlook to try and spy an eagle. Then Sarah will lead a short hike and whoever wants to can go lead a longer hike. Masks required for circle-up time and then we can space out as we walk with nude noses. Bring a snack to eat at the overlook as well as H2O, of course.

Meeting Location: John Paul Jones Cabin outside. 1145 Furnace Road, Airville, PA 17302 Departure Time: 1:30 PM
Hike Leaders: Sarah and Lou Tateosian at 717-741-2652 Carpool Fee: None


SUNDAY, APRIL 25 – MEDIUM HIKE (6 MILES): We will hike up the "Dragon Spine" section of Mason-Dixon Trail then head down rolling terrain to Green Branch Run and return. The rock scramble at the beginning and end is mildly challenging. There are two high lookout sections where you may see Eagles, Hawks or Buzzards at eye level (I have many times). We can see the Turkey Hill windmills the entire hike and view the 'Mighty Susquehanna' from above. Bring lunch, water, wear sturdy hiking shoes. Come join us for this beautiful spring hike!

Meeting Location: Lock 2 Recreation Area, first parking lot past Shank's Mare Outfitters along river next to playground
Departure Time: 9:00 AM
Hike Leader: Janine Zell, 717-684-7891 or Day of Hike (cell): 717- 371-6743 Carpool Fee: None




ANNOUNCEMENTS:


Secretary (YHC Officer and Board Member): Please contact Alan Noble (717-758-8470, ) if you are interested in the volunteering for the Secretary tole for the club. As a YHC Board Member, the club Secretary will help shape and direct the club, maintain meeting notes, and write letters for the club concerning YHC mission.

Sawyer Training: If anyone is interested in attending a two day class to get certified as a chainsaw operator on the AT let Tom Morley know, . This is for new sawyers only, if you need a recert Tom will let you know. Date: April 24-25. Place: Hawk Mountain Sanctuary, near Hamburg, Pa. Respond to Tom ASAP if interested.

COVID-19 York Hiking Club Guidelines

1. Stay home if you, or anyone in your family, are exhibiting symptoms of COVID-19, or have been in contact with someone diagnosed with COVID-19.
2. Optional but recommend is carrying a CDC-approved mask and alcohol-based hand sanitizer
3. Practice social distancing of 6 feet apart. Masks should be worn when social distancing is not possible (PA Universal Face Covering Order). Example is when passing people on a trail.
4. No more than 25 people in a group (PA Guidelines). (continued)
5. Carpooling will not be provided by York Hiking Club. If personally carpooling and not from the same household, then mask should be worn.
6. All club hikes will be loop or out-and-back hikes which do need carpooling.

Newsletter Paper Subscriptions: Please send all newsletter requests (six months, nonrenewable) with a check for $5.00 made payable to "Membership Chairman: Linda Bean," 1846 Marigold Road, York, PA 17408-1551 Telephone: 717-881-6651

New Email Address? Contact Bernie Frick ( ). This information is held by the club only and will be used to send club information and for inclusion in our yearly logbook. Thank you for your cooperation.

Please note change: hike leaders should send the sign-up sheet to the membership chairman, Linda Bean ( ) after the hike, and do not forget to send your Hike write-up for the Log Book to Julie Falsetti ( )."

Individuals who are willing to lead short hikes on Wednesdays area also wanted. If you would like to lead a Family Friendly hike on Saturday or Sunday please contact the monthly chairperson. A short hike is recommended. Contact David Lukes with any questions about leading hikes at .

Thursday Weekly Trail Maintenance: Contact Jim Hooper for information for the current week 717-252-3784 or

Card Committee: Linda Bean serves as the "card committee." If you know of someone with a serious illness, having surgery, etc., please notify Linda at or 764-1091 and she will send them a card from the club. New Email Address? Contact Bernie Frick ( ) or Phyllis Morley ( ). This information is held by the club only and will be used to send club information and for inclusion in our yearly logbook. Thank you for your cooperation.




Please volunteer to lead a hike or two for this year's schedule.

* "If there are no objections within 10 days" refers to things like almost getting a hike kicked out of a park.

A sheet is handed out to all New hikers at the parking lots before the hikes.

Our new place for meetings/events is inside the York Township Recreation Building, directions as follows:

From I-83 exit 16, take Queen St (PA-74) south for about 1 mile. At Campbell Music, turn left onto Oak St. Drive about a

tenth of a mile and stop at the stop sign; do not turn right. Drive straight ahead past the township building to the small

building in the middle of the field.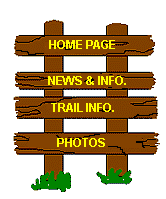 Parking lot maps
York County High School of Technology (Vo-Tec)
North End meeting place Exit 24 route 83 Park and ride Lot N/E Corner