Susquehannock Trail in Potter County
OCT. 20,21,22 2006
Click on images to get larger and nicer image!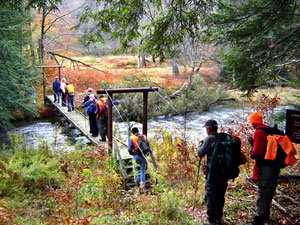 This is the first time we have ever hiked on a blazed creek! Or at least that is what it seemed like for a large part of the trail, especially on Saturday's eleven-mile section. It took about 4 hours Friday to drive from York to the B&B in Coudersport. We were amazed to see an overflowing stream right in front of the entrance to the farmhouse where we stayed. B&B, which was full of antiques, fortunately had a brand new sturdy bridge over the water so we didn't have to swim across.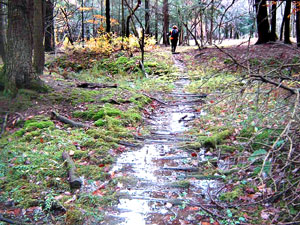 I heard that six folks took falls on the slick wet leaves and mossy rocks, but there were no serious injuries.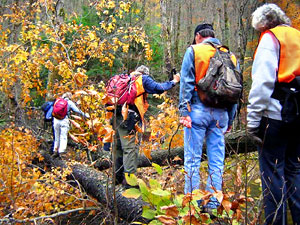 We 15 hikers filled the farmhouse and one cabin. Our Saturday 8 AM breakfast in the barn was hearty enough to last the average person all day long. Served up buffet style on antique Hoosiers were eggs, oatmeal, fresh fruit and yogurt, bacon, sausage gravy with hot biscuits fresh from the oven, with plenty of juice and coffee. Weighed down with breakfast and rain gear we trekked through the damp forest. With the streams overflowing crossing their waters was an adventure. Tom was the hero at one crossing. After getting his foot quite wet as the first across, he helped the others get across with dry feet. At one point, in Lyman Run State Park, we thought we would have to walk out the road but ˝ mile upstream we found a giant oak tree that had conveniently fallen across the swollen creek. However, Jim McCoy waded straight across through the stream!
Wet, wet, wet! After the days hike, more great food came on line. We feasted in the farmhouse kitchen on homemade lasagna, salad and pies made by our fellow hikers. For Sunday's breakfast we were served more delicious food, by our B&B hosts, that included rice pudding and homemade cinnamon buns! It is a wonder that we could hike the seven miles that day after all that good eating! Lou tested the water up to his knee at one stream crossing and lost his water bottle in the fast flowing water. We were hoping it would float downstream so he could pick it up later. Rodney also had fun getting his feet wet. We all made it through the forest and headed home to a week of dieting!
webmaster: Jim T.
Oct. 24,2006