York Hiking Club

Newsletter

Hiking Dates
Welcome to the York Hiking Club Newsletter, a complete monthly listing of hikes, work trips, special events and announcements.

All are welcome to come on out on a hike to see what the club is all about.

A welcome sheet is handed out at every hike. This sheet has all you need to join and get on the mailing list.

Need more information on a hike or activity?

Just contact the event leader- they will be happy to answer your questions.

Parking / Directions For the Club! Four Lots Click

Print version! also the PDF version!
************************************************************************
March 2013

Chairperson: Todd Trimmer 717-817-2394
(In the event of inclement weather, please contact the hike leader in advance of the meet time
for information on any change in the activity.)
(

Please

make telephone calls before 9PM.)

Blue links below take you to a map page!

Parking For the Club! Four Lots Click

Fee for a hike is only if one Carpools.
Please volunteer to lead a hike or two for this 2013 year.


March 1: FRIDAY - COVERED DISH AND PROGRAM - Come join us for a social evening starting with a
Covered dish supper and proceeding to a slide presentation of a recent trip to Yosemite National Park. We will meet at York Township Recreation Building at 6:30-8:30 PM. Bring a dish to share. Having your own place setting is appreciated, but paper goods will be available. Contact Phyllis or Tom Morley 764-6822 or for more information.

Directions to the York Township Recreation Building as follows:
From I-83 exit 16; take Queen St (PA-74) south for about 1 mile. At Campbell Music, turn left onto Oak St. Drive about a tenth of a mile and stop at the stop sign; do not turn right. Drive straight ahead past the township building to the small building in the middle of the field.

March 3: SUNDAY - Long Hike - Cowanís Gap State Park-9 miles-Weíll begin the hike on the Tuscarora Trail and hike on other trails throughout the park ending with the trail around the lake. This is a good workout. There are at least three steep climbs. Donít say I didnít warn you:) Bring good boots, lunch, and plenty of water. West Side meeting place (Adams Electric) at 8:00 a.m. Carpool $6. Hike leader: Deb Clemons, 717-659-8973, .

March 10 (Daylight Savings Starts): SUNDAY - Long hike - Approximately 11 miles on part of Section 3 and Section 4 of the Super Hike. Starting on the Conestoga Trail at the Arboretum at Holtwood Recreation Area and ending at Pequea Creek Campground. This is a strenuous hike with many elevation changes including some short rock climbs and one stream crossing, but is a very scenic hike that includes Kelly's run, the Pinnacle with a great view of the Susquehanna River and Wind Cave. Bring hiking footwear, lunch and water. Meet at the Boscov's East Parking lot across from the Texas Roadhouse to leave at 8:00 AM. Carpool fee $4.00. Contact Kim Herbst at 717-887-4462 or .

March 11: MONDAY - Full Moon

March16: Saturday - Mason-Dixon Spring Quarterly Hike and Meeting
The M-DTS quarterly hike and meeting will be in Newark, Delaware. Meet at 9:00 a.m. at the home of Bob Bennett, 117 Dallas Ave. (corner of Apple Road and Dallas Ave.). The starting point of the hike in Iron Hill Park at the memorial of Robert Yost, M-DT founder. The trail leaves Iron Hill Park and continues to Rittenhouse Park, where it follows the Persimmon Run and then the Christina Creek to Elkton Road. From Elkton Road, we will leave the trail and walk through the neighborhood of "Devon" along its border with the Amtrak line to Apple Road and the Bennettís' house, where the meeting will begin at about noon. If you want to car pool from York, contact Jim Hooper, 252-3784 or


March 17: Long Hike - Medium Long Hike - Michaux Meander. Come wander parts of the forest that you've never seen. Nine mile loop hike following old forest roads, with a couple of stream crossings, a short stretch of bushwhacking, easily graded hills, modern petroglyphs and ending on the Raccoon Run Trail. There will be some muddy spots if the ground is not frozen. Meet at Adams Electric at 8:30am or the Totem Pole Playhouse at 9:30am. Bring boots, lunch and water. Leader Pat Yale 717-495-2839 or . Hike fee $5.00.

March 24: SUNDAY - JPJ WORK DAY: Come out and help get JPJ Cabin ready for fun activities! Jobs are available for everyone inside and out. Wear old clothes and bring lunch. Meet at JPJ at 9:30 AM. Coffee and iced tea will be served with homemade cookies! And letís take a hike after lunch. If anyone wants to carpool please call Sarah. For more information contact: Sarah Tateosian (717) 741-2652.

March 31: SUNDAY Ė HAPPY EASTER!!!

Announcements:

We welcome to new members to the club: Rebecca Timmermans and James Howell, Joe & Melissa Fetterolf. An invitation to join has
also been sent to Tina Scholz of Wrightsville and Elyshia Menkin of York.

GOT A NEW EMAIL ADDRESS? PLEASE NOTIFY Bernie Frick, and Phyllis Morley, if you have changed your e-mail address. This information is held by the club only and will be used to send club information and inclusion in our yearly logbook. Thank you for your cooperation.

THURSDAY WEEKLY TRAIL MAINTENANCE: Contact Jim Hooper for information of that week. 717-252-3784 or


WANTED: Individuals who are willing to lead short hikes on Wednesdays There is no need to wait for the weekend to get outside. Give me a call or e mail me 717-741-0624 or

FEELING LEFT OUT???: Please donít be bashful feel free to step forward anytime to lead a hike. Please donít wait to be asked. Call the monthly chairperson or me Al Britton 717-741-0624 or . I will put you in touch with the right person. Not sure you know what to do or you would like some one to go over the hike with you, well call me, Iíll be glad to help. No experience is necessary, just a desire to get involved. The hike can be of any length.



Please volunteer to lead a hike or two for this year's schedule.

* "If there are no objections within 10 days" refers to things like almost getting a hike kicked out of a park.

A sheet is handed out to all New hikers at the parking lots before the hikes.

Our new place for meetings/events is inside the York Township Recreation Building, directions as follows:

From I-83 exit 16, take Queen St (PA-74) south for about 1 mile. At Campbell Music, turn left onto Oak St. Drive about a

tenth of a mile and stop at the stop sign; do not turn right. Drive straight ahead past the township building to the small

building in the middle of the field.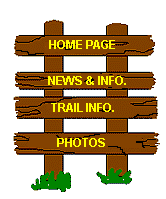 Parking lot maps
Vo-Tec (York County High School of Technology)
North End meeting place next to Rutter's Store