York Hiking Club

Newsletter

Hiking Dates
Welcome to the York Hiking Club Newsletter, a complete monthly listing of hikes, work trips, special events and announcements.

All are welcome to come on out on a hike to see what the club is all about.

A welcome sheet is handed out at every hike. This sheet has all you need to join and get on the mailing list.

Need more information on a hike or activity?

Just contact the event leader- they will be happy to answer your questions.

Parking / Directions For the Club! Four Lots Click

Print version! also the PDF version!
************************************************************************
Febuary 2014

Chairperson: Kim Herbst,
(In the event of inclement weather, please contact the hike leader in advance of the meet time
for information on any change in the activity.)
(

Please

make telephone calls before 9PM.)

Blue links below take you to a map page!

Parking For the Club! Four Lots Click

Fee for a hike is only if one Carpools.
Please volunteer to lead a hike or two for this 2014 year.


February 2, SUNDAY: Short Hike – Approximately 5 miles around Rocky Ridge Park. Meet at the first parking lot on the left at Rocky Ridge at 1:30. Bring water and snack, if you wish. Wear good walking shoes or hiking boots. Hike Leaders: Jerry and Chris Broome (717) 757-6357

February 2, SUNDAY: : Medium Hike – Shuttle Hike: Apollo Park to Shank's Mare - 9 miles- We will begin the hike in Apollo Park and follow the Mason-Dixon Trail up river. This is a difficult hike with a section of rock scrambling. Bring good boots, lunch, and plenty of water. Meet at the Boscov's East Parking lot across from the Texas Roadhouse to leave at 8:00 AM. Carpool fee $5.00. Contact Kim Herbst at (717) 887-4462 or .


February 9, SUNDAY Chili Hike - Medium Hike - JPJ Cabin - At 10 AM Jim Hooper will lead a 6 mile hike starting from JPJ, returning in time for a chili dinner at 1:30 PM. Call Julie Falsetti at (717) 854-3437 or email before 9:00 PM Thursday February 6 to make meal reservations. Meal cost will depend on Julie's grocery cost plus cabin use fee.

February 15, SATURDAY: Medium Hike followed by a pre-holiday social at JPJ Cabin. Approximately 8 -mile hike reversing Section 1 of the Super Hike. We will hike on the Mason Dixon trail, beginning at State Game Land 181 parking lot, visiting Urey Overlook & ending at JPJ Cabin. Trail consists of a short road walk, logging trail, two stream crossings, a steep uphill switchback climb and some minor ascents and descents. Afterwards, enjoy wine-tasting, appetizers, and a warm fire at JPJ cabin. Hike leader: Tom Morley, (717) 764-6822 or . Any questions regarding wine social call Gwen Loose, (717) 891-9967. Carpool options: Meet at York Vo-Tec (York County High School of Technology) or Boscov's East Parking area, York Galleria Mall near Texas Road House @ 9:00. Carpool Fee: $2.00. Hikers can also meet at 1st parking lot on the left below JPJ cabin @ 9:45. Hike: Bring boots, water, lunch, and dress for weather. JPJ social: Optional to bring 1 bottle of wine or non-alcoholic 'wine' and an appetizer for tasting.

February 16, SUNDAY: Short Hike - Lake Reedman: Join Lore & Allen Britton on a 4 mile hike starting at Leader Heights Elementary School. We will avoid traffic as much as possible and hike to Lake Reedman for a pleasant hike skirting the lake. We have some ups, but nothing difficult. We will meet at the school at 1:30 P.M. Hike leaders: The Britton's, (717) 741-0624 or if you need directions. Rain or Snow cancels.

February 23, SUNDAY: Short Hike – 5 mile hike, along country roads in Detters Mill area. Meet at Woodberry Road parking at 1:00 PM. This is our new spot which replaces Adam's Electric. If you are turning off of Route 30 onto 616, immediately turn left again onto Woodberry Road. Bring water and good hiking shoes. Hike leaders: Frank and Mary Phipps (717)818-8035

February 23, SUNDAY: Long Hike - Sunday February 23. Long Hike on the Appalachian Trail: Once again, we would like to do a series of AT hikes. We are going to begin with the #5 section which is Pine Grove Furnace State Park to Sheet Iron Roof Road, approximately 10 miles with a maximum gain of 750 feet. Meet at Woodberry Road at 8 a.m. This is our new spot which replaces Adam's Electric. If you are turning off of Route 30 onto 616, immediately turn left again onto Woodberry Road. Car pool fee is $5.00. Wear approximately hiking gear and boots. Bring water, lunch and snacks. For more info call Tom Morley at (717) 764-6822 or e-mail .


Announcements:

New member: Welcome to Susan Crooks. Susan joined the club at our Pork and Sauerkraut dinner. She is the wife of Jim Crooks who recently joined. We're not sure if she just really liked us or it was Diane's great cooking that made her decide to be part of our group.

Backpacking anyone? If you have always been interested in backpacking here is a chance to get more info and connect with others who want to get out on the trail. We will go over general equipment, what to expect, food and any other questions you may have. Contact Tom Morley as we are going to set up a Backpacking 101 class early in March open to everyone. Please call or e-mail to sign up and get more info. Phone 717-764-6822 or .

Card Committee: Linda Bean has graciously agreed to be our "card committee" since Sally Zimmerer has moved from the area. If you know of someone with a serious illness, having surgery, etc., please notify Linda at .net or 764-1091 and she will send them a card.

FEELING LEFT OUT???: Please don't be bashful feel free to step forward anytime to lead a hike. Please don't wait to be asked. Call the monthly chairperson or me Al Britton 717-741-0624 or . I will put you in touch with the right person. Not sure you know what to do or you would like some one to go over the hike with you, well call me, I'll be glad to help. No experience is necessary, just a desire to get involved. The hike can be of any length.

GOT A NEW EMAIL ADDRESS? PLEASE NOTIFY Bernie Frick, and Phyllis Morley, if you have changed your e-mail address. This information is held by the club only and will be used to send club information and inclusion in our yearly logbook. Thank you for your cooperation.

THURSDAY WEEKLY TRAIL MAINTENANCE: Contact Jim Hooper for information of that week. 717-252-3784 or

WANTED: Individuals who are willing to lead short hikes on Wednesdays There is no need to wait for the weekend to get outside. Give me a call or e mail me 717-741-0624 or

A DIFFERENCT KIND OF ACTIVITY: If you would like to lead a bike hike, canoe or weekend camping trip please let me know. Allen Britton 717-741-0624 or





Please volunteer to lead a hike or two for this year's schedule.

* "If there are no objections within 10 days" refers to things like almost getting a hike kicked out of a park.

A sheet is handed out to all New hikers at the parking lots before the hikes.

Our new place for meetings/events is inside the York Township Recreation Building, directions as follows:

From I-83 exit 16, take Queen St (PA-74) south for about 1 mile. At Campbell Music, turn left onto Oak St. Drive about a

tenth of a mile and stop at the stop sign; do not turn right. Drive straight ahead past the township building to the small

building in the middle of the field.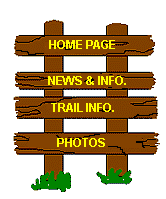 Parking lot maps
Vo-Tec (York County High School of Technology)
North End meeting place next to Rutter's Store