York Hiking Club

Newsletter

Hiking Dates
Welcome to the York Hiking Club Newsletter, a complete monthly listing of hikes, work trips, special events and announcements.

All are welcome to come on out on a hike to see what the club is all about.

A welcome sheet is handed out at every hike. This sheet has all you need to join and get on the mailing list.

Need more information on a hike or activity?

Just contact the event leader- they will be happy to answer your questions.

Parking / Directions For the Club! Four Lots Click

Print version! also the PDF version!
************************************************************************
April 2013

Chairperson: Linda Bean - 717-764-1091 –
(In the event of inclement weather, please contact the hike leader in advance of the meet time
for information on any change in the activity.)
(

Please

make telephone calls before 9PM.)

Blue links below take you to a map page!

Parking For the Club! Four Lots Click

Fee for a hike is only if one Carpools.
Please volunteer to lead a hike or two for this 2013 year.


April 7th - Sunday - AT Work Hike - AT Work Hike Boundary painting and work on the Shelter. Meet at 8:30 am at the North End meeting place next to Rutter's Store. If you have any questions contact Jim Hooper 252-3784 or

April 13th - 14th - Saturday/Sunday - Flower Weekend @ JPJ - April 14 - Flower Hike and covered dish lunch at John Paul Jones. John Seville will lead the Flower Hike at 10:30 a.m. Sunday over the traditional path, and then continue on to make it 4 or 5 miles for those who wish to do so. The lunch will start at 1:30 p.m. Please call the Sevilles at 244-6769 with your covered dish selection so that we can have a nice variety for the meal.

April 20 TRAIL DAY TRIP - The Otter Creek Yellow Trail renovation will continue. We will be connecting the trail to the MDT (at one end) and finish side hill construction at the other. We will do some plantings and possibly install a post or two. We will meet at 10 AM at Otter Creek, at the parking area by the Rt 425 Bridge near the campgrounds. You may contact Skip Newcomer for details. or 717-891-5206. Bring work boots gloves, water and lunch.

April 21st - Sunday - Antietam Battlefield - Hike the Antietam Battlefield following a series of hiking trails in the park. Visit the cornfield and Burnsides Bridge. It will be a long hike with options to make the hike shorter for individuals who do not want to do the full distance. Lone distance will be about 10.5 miles. Plan on a dinner stop after the hike. Meet at Adams Electric at 8:30am. Contact Jim Hooper 717/252-3784 if you have any questions. Bring boots, water, & lunch. Carpool Fee will be $10.00.

April 23rd - Tuesday - Board of Director's Meeting: The meeting will be held at the Hooper's 717-2562-3784. The meeting will start at 7:00 P.M.

April 28th - Sunday - Short Hike - 5 Miles along the rail trail. Meet at Hanover Junction 1:30pm. Flat mostly gravel surface walking on the rail trail. Bring water & hiking shoes. Leader: Linda Bean-717-764-1091 –

April 28th - Sunday - Long Hike - 9.5 miles. We'll begin on White Rocks Trail in Boiling Springs then hop on the Appalachian Trail to about Whiskey Springs Road and head back. There are a few long, steep climbs, a stream crossing and several boulders to maneuver around. There's a nice pinnacled ridge of Antietam quartzite on this hike. Bring hiking boots, water and lunch. Meet at Adams Electric at 8:00am. Carpool fee is $5.00.
Contact Elyshia Menkin, 734-536-9453 or for more information.

April 26th - 28th - Friday/Sunday - KTA Spring weekend at Dingmans Ferry.



Announcements:

We welcome to the club: Iyshia Menkin has paid her dues and initiation fee and is welcomed into the club. Her information is: Coventry at Waterford, York PA 17402, 734-536-9453
elyshiamenkin@gmail.com.

A letter of invitation to join the club has been sent to Kathy Miller of York.

FEELING LEFT OUT???: Please don't be bashful feel free to step forward anytime to lead a hike. Please don't wait to be asked. Call the monthly chairperson or me Al Britton 717-741-0624 or . I will put you in touch with the right person. Not sure you know what to do or you would like some one to go over the hike with you, well call me, I'll be glad to help. No experience is necessary, just a desire to get involved. The hike can be of any length.

HIKE LOGS: Please remember to send your Log entries to Jim Trautman . Also remember to send Phyllis Morley your sign-up sheets.

GOT A NEW EMAIL ADDRESS? PLEASE NOTIFY Bernie Frick, and Phyllis Morley, if you have changed your e-mail address. This information is held by the club only and will be used to send club information and inclusion in our yearly logbook. Thank you for your cooperation.

THURSDAY WEEKLY TRAIL MAINTENANCE: Contact Jim Hooper for information of that week. 717-252-3784 or


WANTED: Individuals who are willing to lead short hikes on Wednesdays There is no need to wait for the weekend to get outside. Give me a call or e mail me 717-741-0624 or




Please volunteer to lead a hike or two for this year's schedule.

* "If there are no objections within 10 days" refers to things like almost getting a hike kicked out of a park.

A sheet is handed out to all New hikers at the parking lots before the hikes.

Our new place for meetings/events is inside the York Township Recreation Building, directions as follows:

From I-83 exit 16, take Queen St (PA-74) south for about 1 mile. At Campbell Music, turn left onto Oak St. Drive about a

tenth of a mile and stop at the stop sign; do not turn right. Drive straight ahead past the township building to the small

building in the middle of the field.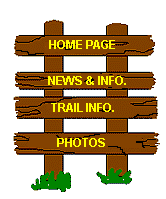 Parking lot maps
Vo-Tec (York County High School of Technology)
North End meeting place next to Rutter's Store